Cardiff terror arrest: Extended detention for suspect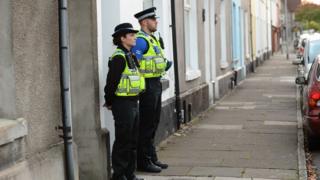 Police have been given extra time to question a man arrested in Cardiff on suspicion of terror offences.
Metropolitan Police Service Counter Terrorism Command officers detained the man, 33, in the city last Thursday.
He has been held on suspicion of the commission, preparation and instigation of terrorist acts under section 41 of the Terrorism Act 2000.
A further detention warrant until 6 October was granted at Westminster Magistrates' Court.
An initial warrant of further detention was obtained on 24 September.
The BBC understands the arrest is related to alleged Islamist terrorism.
Police said the arrest was pre-planned and the result of a proactive investigation by the Metropolitan Police Counter Terrorism Command and Wales Extremism and Counter Terrorism Unit.
Officers have completed searches on two addresses in Cardiff.