Coleg Gwent lecturer's 'sexual building-site banter'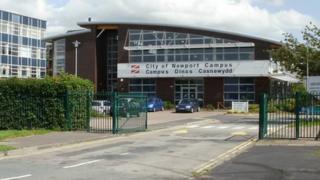 A construction lecturer used "building-site banter" to harass a college colleague, a disciplinary panel has heard.
Jeffrey McMail, 50, is accused of sexual harassment while teaching at Coleg Gwent, in Newport.
He did not attend a fitness to practise hearing in Cardiff on Tuesday and was not represented.
The panel is yet to decide if the claims are proved and if they constitute unacceptable conduct.
Mr McMail is alleged to have harassed a young woman teacher, allegedly making sexual comments about her in front of colleagues in their staff room.
He is also said to have told construction students the woman - referred to as Colleague A to protect her identity - would give them sexual favours.
The father-of-two is also accused of pushing the woman on to a classroom desk and simulating sex with her.
'Unacceptable'
Cadi Dewi, presenting officer, told the Education Workforce Council hearing there was a "culture of teasing" and "banter" at the college, but Mr McMail's behaviour became "unacceptable."
She said: "There was an entrenched and long-standing culture in the department where colleagues saw nothing wrong with their behaviour.
"Colleague A says, while she was open to the behaviour for some time, the behaviour of McMail in particular escalated to an unacceptable level."
The allegations are said to have taken place between January and August 2015, after Mr McMail left the building trade to teach his skills at the further education college.
An internal investigation found a culture of "banter" in the college department, which "often became sexualised".
Stephen Llewellyn, head of school for services, said Mr McMail admitted engaging in "banter" with the woman - but found it "difficult" to give examples of the type of language he would use.
Mr Llewellyn said: "During our interviews, he was quite flustered and seemed to have memory loss when questions were put to him.
"He was vague and used the word 'banter' a lot."
He said students had described Mr McMail as "playful" and a "fun guy to be around".
The hearing continues.