Cardiff camera catches 800 vehicles making illegal turn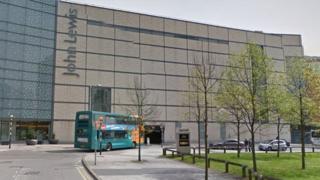 More than 800 vehicles were filmed making an illegal turn at a central Cardiff junction in the last few weeks, the council has said.
Cardiff council has warned drivers not to breach the Highway Code, after a rise in traffic offences in August.
An enforcement camera being tested in Canal Street captured the vehicles making the banned left turn into the John Lewis car park.
Ramesh Patel, member for transport, said the rise was "disappointing".
Cardiff said there were month-on-month increases in the number of penalty notices for the illegal use of bus lanes (from 7,103 to 7,116) and yellow boxes (from 56 to 156).
However, the number of motorists caught by its camera car had "reduced dramatically".
The number of people stopping illegally on zigzag lines outside schools and parking in bus stops also declined, with 148 notices issued in August - down from 350 in July.
The council issues fines to motorists for these moving traffic offences, while an expanded scheme will see enforcement action for a number of banned turns, including that on Canal Street, from October.
Mr Patel said the latest increases came "despite the fact that we are publicising where the cameras are located across the city".
"Although we have seen a steady decline up until April for moving traffic offences, it seems that the number of people breaching the Highway Code continues to rise since then, which is disappointing.
"Later this year, we will be expanding the scheme, enforcing other bus lanes, yellow-box junctions and bringing in another camera car to enforce banned turns."
Banned turns that will be enforced as part of the next phase:
Wood Street into Havelock Street, city centre
Churchill Way into North Edward Street, city centre
North Road into College Road, city centre
Canal Street, the left turn into John Lewis Car Park, city centre