Manhunt mix-up led to Cardiff raid on naked hotel guest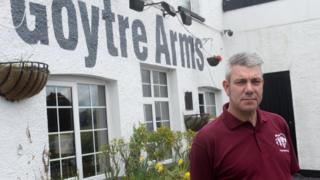 A businessman was confronted naked in a Cardiff hotel room by police armed with a Taser gun after a mix-up over names, he has said.
Pub landlord Richard Jones was getting ready for a charity night when two officers stormed into his room.
Police were on the hunt for another Richard Jones, who was accused of breaching a restraining order.
Gwent Police said it acted "in good faith" after receiving information.
Officers relented when they realised the hotel guest had a different middle name - and did not match a photograph.
Mr Jones said he has made a formal complaint to Gwent Police.
"There was no knock on the door, no nothing," said the 53-year old publican, who runs a pub in Blackwood, Caerphilly county.
"I'm naked and one of them has the Taser out, pointing it at me.
"He asked me a couple of times if I was Richard Jones and I said: 'Yes'.
"My wife was on the bed and she was pretty shocked."
The incident took place at the Park Inn by Radisson hotel, near the A48, in Llanedeyrn.
But the landlord is Richard Webb Jones - the Gwent Police officers were searching for a Richard Leonard Jones.
"If I didn't have a middle name, I'd have been put to the floor and been arrested," he said.
Mr Jones said he was shown a photograph of the 46-year-old fugitive from Newport police had hoped to arrest.
"He's seven years younger than me and has a roundish face, he doesn't look anything like me," he added.
"The only similarity is that we're both called Richard Jones - there are lots of people called Richard Jones especially in Wales.
"I'm still waiting for an apology."
A spokeswoman for the police force said the officers had acted "in good faith" on information they had received.
She said: "Enquiries were made and we have since spoken to the complainant.
"The matter is now being resolved."