'Progress' on Bridgend recycling centre woodchip fire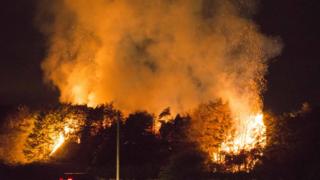 Firefighters are making "significant progress" tackling a recycling centre fire in Bridgend, which is continuing into its fourth day.
About 3,000 tonnes of wood chips caught fire early on Monday at South Wales Wood Recycling in Coity.
It is expected to take "a number of days" to put out, but South Wales Fire and Rescue Service said it had kept it contained and reduced its size.
The fire involved a stack of wood chips about 15m (49ft) high.
The service asked people in the area to keep doors and windows closed and turn ventilation systems off to minimise their exposure.
An investigation into the fire's cause is ongoing and in its early stages.