Coity woodchip waste plant fire 'could burn for days'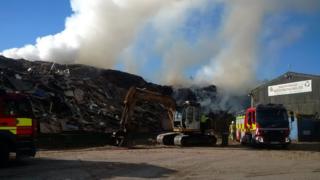 A fire at a wood recycling plant which broke out on Monday is likely to burn for several days, the fire service has said.
About 3,000 tonnes of wood chips caught fire at South Wales Wood Recycling in Coity, Bridgend.
South Wales Fire and Rescue Service (SWFRS) said it had been "extremely challenging" to find a sustainable source of water to tackle the blaze.
It is expected to take "a number of days" to put out the fire.
SWFRS said water was being pumped in from the River Ogmore, approximately 2.4 miles (4km) away.
The fire involves a stack of wood chips about 15m (49ft) high.