Cardiff man jailed as asylum seekers helped into UK illegally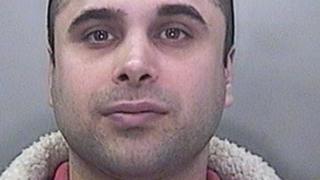 An Iranian man living in Cardiff has been jailed for illegally helping asylum seekers into the UK.
Mostafa Rabeih Lalehka, 32, helped four Iranian women and two children in a case which was said to involve people being exploited for substantial gain.
Cardiff Crown Court heard he did it so he could bring his wife over illegally.
He was given 38 months after admitting two counts of helping an asylum seeker to enter the UK, one of attempting to help and money laundering.
It is the first case of its kind dealt with by the regional organised crime unit in Wales.
"You were assisting vulnerable people to enter the UK to claim asylum for gain for yourself and for others," said Judge Neil Bidder QC.
"It's clear this was a very carefully organised enterprise - it's obvious there were other people above you in the chain of command but you played a vital role in assisting asylum seekers to enter the UK.
"You were aware they were being exploited for substantial gain because you yourself entered the UK illegally and paid a large amount of money to people like the people who organised for these women and children to enter the UK."
False documents
The court heard Lalehka arrived in the UK in 2006, when he paid an agent $12,000 (£9,000) to get him into the country.
He served three months in jail for illegally entering the country, before being given indefinite leave to stay, and he had been living in Cardiff since leaving jail.
While helping to bring asylum seekers to the UK, he would pay for the flights of the other people, and accompany them to the UK from Barcelona.
The women would have false documents for various legs of the journey, but on the final flight to the UK, they would dispose of the documents and arrive at the airport seeking asylum," the court heard.
Money laundering amounted to £13,110.
Lalehka's defence argued that he did it for mixed reasons - he married an Iranian woman but was unable to get her a visa, so agreed to help bring over asylum seekers for the money, but also so that eventually he could also bring his wife over illegally.
As soon as his wife was in the UK, he stopped offending. All the women he helped into the UK were granted leave to stay in the UK. However, his wife's application has been denied.