PE teacher Neilson Smith claims woman 'came on to him'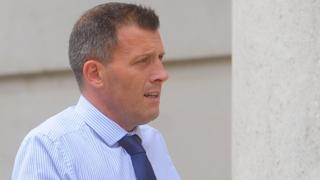 A PE teacher accused of raping a woman claimed she "came on to him" after taking her home from a Cardiff nightclub last December.
Neilson Smith, 41, gave his version of the sexual encounter at Cardiff Crown Court on Wednesday.
He said she touched him and "after a bit of a fumble" they engaged in sexual activity for a few minutes before he found he was unable to perform.
Mr Smith from Pontypridd, Rhondda Cynon Taff, denies rape.
The court heard Mr Smith, a teacher at Willows High School in Tremorfa, met the drunken woman at Tiger Tiger before taking her home in a taxi.
He told police that she had gone to bed and that he went into the bedroom to check on her.
He said: "She asked if I would stay and a little while later she touched me.
"She came on to me and we had a bit of a fumble and engaged in some sort of sexual activity for a few minutes.
"I was struggling to perform and it ended after that."
The prosecution claim the woman was "too drunk" to agree to sex with Mr Smith after she drank wine and gin and tonic with friends.
The case continues.