Marathon man Rory Coleman to run again after illness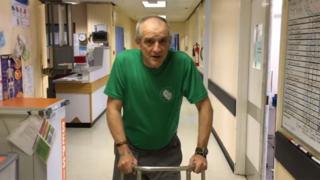 A record-breaking runner from Cardiff has overcome his biggest challenge to date after being struck down with a rare illness.
Rory Coleman has completed 976 marathons, 241 ultra-marathons, 13 Marathon des Sables and holds nine Guinness World Records for running.
The 54-year-old was diagnosed with Guillain-Barre Syndrome in May, and was warned he may never walk again.
Now back on his feet, he plans to run the Cardiff Half Marathon next month.
Mr Coleman told the Jason Mohammad programme on BBC Radio Wales he was "the luckiest man alive" and would go through the illness again.
"I've come out of the other side knowing who I am and who the important people are," he said.
Guillain-Barre Syndrome is a rare and serious disorder in which the body's immune system attacks part of the peripheral nervous system.
Mr Coleman, who works as a celebrity performance coach, was diagnosed just four weeks after running 156 miles (250km) across the Sahara Desert in the Marathon des Sables race in Morocco.
"I came back to the UK and the wheels just fell off," he said.
"If you Google Guillain-Barre Syndrome and read the first three lines, it scares you to death.
"You close the page very quickly because you see that 5% of people die and 30% of people never leave a wheelchair."
Mr Coleman was first admitted to Cardiff's University Hospital of Wales, where he said he "fought everybody".
"I fought myself, my wife, the doctors and the medication.
'Starting again'
"For 54-years I'd been building this glorious wall around me. I'm a desert runner, I'm a coach, I'm the person that drives other people forward, and suddenly something came along and kicked the bricks down.
"I spent a lot of time trying to patch it up rather than letting it be knocked down and start again."
Mr Coleman was recently discharged from the rehabilitation unit at Cardiff's Rookwood Hospital and has set his sights on the Cardiff Half Marathon on October 2.
He plans to run it with his wife Jenny, who gave birth to their son just six weeks ago.
"The best way to get strong is to train and think about getting fit," he said.
"For me it's like starting running all over again."