Creigiau Quarry plan: More than 100 form 'no' in protest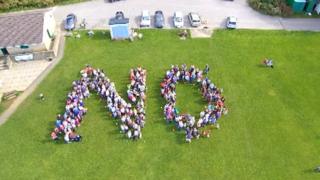 More than 100 people have gathered to spell the word "no" to protest against plans to reopen a Cardiff quarry.
Opponents argue Tarmac's plan to reopen and expand Creigiau Quarry would cause pollution, damage buildings and cause gridlock on roads.
Protesters were at Creigiau Recreation Ground on Sunday, ahead of a council decision on the plans on 12 October.
Tarmac said it was an important source of limestone, with traffic restrictions agreed.
Cardiff council said all representations made would be carefully considered before a decision was made on the proposal.
Activist Deb Hunt said: "With the decision on the quarry imminent, we have conveyed our solidarity on this subject by forming our most emphatic 'no' yet."