Celebrations mark Severn Bridge's 50th anniversary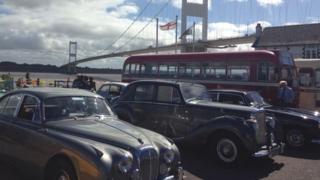 A vintage car procession has taken place across the original Severn Bridge to mark 50 years since it opened.
The Grade I-listed structure took three-and-a-half years to build at a cost of £8m.
It was opened by the Queen on 8 September 1966.
Despite being designed to last for 120 years, the bridge needed to be strengthened in the late 1980s because more traffic was using it than was originally expected.
Following the morning procession, a celebration event was held attended by civil engineers who have worked on the bridge over the last 50 years.