Cardiff Bay murder: Kris Wade guilty of neighbour death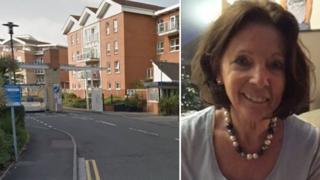 A Cardiff man has pleaded guilty to murdering his neighbour at her Cardiff Bay flat.
Kris Wade, 36, was accused of killing Christine James, who was 65, at Hansen Court, Century Wharf, some time between February 25 and March 3.
He appeared at Cardiff Crown Court via video link from Long Lartin prison.
Wade's barrister said his client had "no recollection of the incident". Sentencing was adjourned until 22 September
Barrister John Charles Rees QC told the court: "There is no doubt he used a knife. It is not accepted he took a knife there.
He continued: "The prosecution will allege there is a sexual motive - that is not accepted."
Police were alerted after Mrs James failed to arrive at London's Gatwick Airport for a flight to Florida.
The Independent Police Complaints Commission confirmed it was continuing to investigate contact between Mrs James and South Wales Police before her death.
Mrs James was the mother-in-law of former Wales rugby captain Jonathan Humphreys.