World record for biggest scrum broken in Cardiff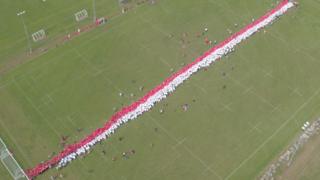 The world record for the largest rugby scrum has been broken in Cardiff after 1,297 players took part.
Players at the Golden Oldies World Rugby Festival joined members of the public at the University Fields in the Llanrumney area.
The previous record of 1,198 was set at Twickenham during the Rugby World Cup.
Welsh referee Nigel Owens, who started the bid, also received a Guinness World Records award for refereeing the most international rugby matches.
On receiving his certificate, Mr Owens said: "It's obviously an honour and privilege to get a Guinness World Record.
"I didn't referee to get any awards, I started refereeing because I enjoyed the game.
"When people do attempt records it's a challenge. But refereeing is a challenge in itself."