Sausage dogs get dressed up for Ogmore-by-Sea charity walk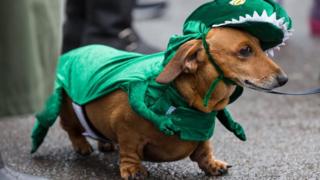 About 300 dachshunds dressed up as dinosaurs, hot dogs and even Team GB athletes to take part in a sausage dog walk at Ogmore-by-Sea, Vale of Glamorgan.
Owners came from Portsmouth and Scotland and braved driving wind and rain to take part in the charity event on Saturday.
They raised more than £2,000 for ill and disabled dachshunds.
Organiser Charlotte Baldwin called the event "absolutely amazing".
Ms Baldwin, owner of dachshunds Barney and Rosie, hoped to make the walk a world record attempt for the largest dog walk with a single breed, but postponed that until next summer.
She said: "If the weather had been better there is no doubt we would have smashed the record.
"But all in all it was still brilliant. The dogs don't like the wind and rain but they were out in all weathers.
"There were huge smiles on people's faces."
The current world record is held by 786 Yorkshire terriers at a walk in New Mexico in 2015.
Ms Baldwin held a sausage dog walk at Porthcawl in December 2015 which attracted more than 500 dogs, and has organised similar events.