Controlled explosion at Newport Intellectual Property Office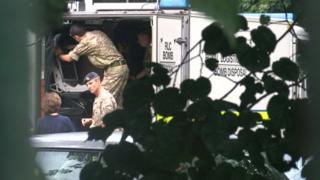 Bomb disposal experts have carried out a controlled explosion at a government building in Newport after a suspicious package was found.
Specialist police and army teams were called to the Intellectual Property Office (IPO) - formerly the Patent Office - on Cardiff Road at about 08:15 BST on Friday.
By 13:00, police said the incident was resolved, with staff allowed to return to the evacuated building.
An investigation has now been launched.
Part of the UK government's Department for Business, Energy and Industrial Strategy, the IPO has had its headquarters in Newport since 1991.