Gwent Police seizes vehicles in HGV offences crackdown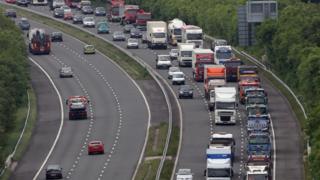 Four vehicles have been seized as part of a Gwent Police crackdown on illegal HGV drivers.
The aim of the operation was to reduce road crashes involving vehicles over 7.5 tonnes.
Using a borrowed HGV, officers were able to drive with a spotter to observe and record any offences.
Over four days, three vehicles were seized after the driver had no licence or insurance and one other for anti-social driving.
Five drivers were also reported for using mobile phones, three for having no MOT, and one for driving without due care.
Officers targeted both domestic and foreign commercial drivers during the operation.
Area Support Unit Inspector, Gavin Clifton said this was the first time they have conducted this sort of operation in Gwent.
"Using a HGV vehicle made it easier for our officers to see into the cabs of these vehicles, which is something we cannot normally do," he said.
"The majority of professional HGV drivers were doing exactly that, being professional."