50 jobs for new Frog Bikes factory in Pontypool, Torfaen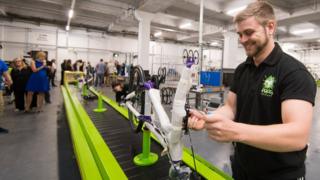 A children's bike manufacturer has opened a new factory in Torfaen, set to create up to 50 jobs.
The 120,000 sq ft site in Mamhilad Park Estate, Pontypool, is Frog Bikes' first manufacturing facility in the UK.
The Surrey-based firm has received £1.7m bank funding and support from the Welsh Government.
It has opened the new factory to meet demand for its bikes following a rise in 2015.