Butetown play Swarm inspired by refugee experience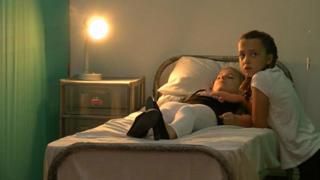 A new play opening in Cardiff aims to give audience members some of the same experiences faced by refugees.
People arriving to see Swarm will enter a "transit zone" established at Butetown History and Arts Centre.
The play's title is based on a comment made by David Cameron at the height of the 2015 migrant crisis.
Audience members will follow a group of actors and a wider cast from the local community as they seek sanctuary.
Abdul Shayek, the artistic director of Fio theatre company, said it was designed to be an immersive experience.
He said: "We have tried to immerse the audience into the piece. In order to do that, we have given them a role. Their role is that they are new arrivals coming to this transit centre, and they are getting processed.
"I think we need to ask ourselves the question, 'What happens if this happened to us?' And I think that's what we are trying to do with this show."
The play takes place in and around the arts centre in Butetown, with camps and a medical room among the locations that have been created inside the building.
It was conceived by Shayek during 2015 as the migrant crisis dominated news bulletins.
Actor Christina Dembenezi is one of five core cast members who visited refugee centres as part of their research ahead of the production.
"It was really interesting to hear their perspective, and to hear from people who are anti migration and others who are in favour of migration.
"It is something really close to my heart because I am from a migrant family."
Swarm will be one of the last events at Butetown History and Arts Centre, which has ended its activities and is currently for sale. Performances take place from 11-14 August.