Cardiff barman stole £70,000 as revenge for long hours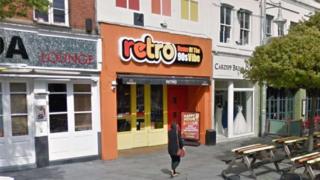 A barman who stole almost £70,000 from a Cardiff nightclub in revenge for working long hours has been jailed for six months.
Jordan Rowlands, 23, of Gelligaer, near Caerphilly, faked refunds for customers and used the cash to fund a luxury bachelor lifestyle.
He stole £3,000 a month before managers at 90s-themed bar Retro noticed a dip in takings during his shifts.
Rowlands admitted theft at Cardiff Crown Court.
Rowlands initially denied the thefts when questioned by bosses, but later admitted taking £69,137 over 19 months.
'Unsophisticated'
Tony Trigg, prosecuting, told the court: "When questioned by police he was surprised at the amount he had taken. He thought it was about £20,000.
"When asked about why he did it, he felt the management didn't like him and it was revenge for the long hours he had to work at the club."
The court heard Rowlands later changed his story, claiming he had accumulated £15,000 of debt while caring for his mentally ill mother.
But he was instead found to have used the money to pay for luxury items including designer clothes.
Leah Pollard, defending, said his offending was "completely out of character".
Judge Patrick Curran QC told Rowlands he had shown a "lack of maturity" in what was an "unsophisticated" crime.