Double yellow lines painted on 5ft Cardiff road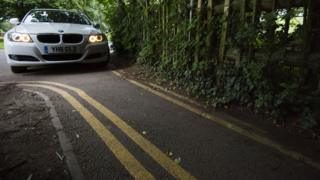 Double yellow lines have been painted on a 5ft (1.5m) wide road in Cardiff which is too narrow for a car.
Cardiff council has received backlash after painting the "no parking" lines on both sides of the lane near Heath Park.
Some people living nearby have called them "ridiculous" and a "waste of money".
A Cardiff council spokesman said the lines were there to "deter anti-social parking on the narrow access lane".
Martin Thomas, 30, said: "These must be the most pointless lines in the country. The only car you could park there would be a toy car.
"I don't see why they have painted these, it is ridiculous really. A complete waste of money.
"How have they got the money to spend on getting contractors in to do something like this but they can only collect my bins every other week?"
Gemma Leyshon, 36, said: "This is a stupid waste of taxpayers money.
"You could never fit a car down here anyway, haven't they got better things to spend money on?"
The council spokesman added: "Whilst accepting that the width of the lane in Heath Park is narrow it is worth remembering that restrictions are placed by the council where there has been an identified issue of safety to the highway user be it in vehicles or on foot. "