'Significant' reduction in tethered horses across Swansea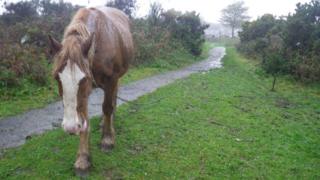 The numbers of horses tethered and fly-grazed in Swansea have reduced "significantly" over the last 18 months, campaigners have said.
Friends of Swansea Horses (FOSH) estimate there are around 45 horses in fly-grazing hotspots - compared with around 250 a year ago.
But, they added, any horses still tethered on public land may "experience sustained suffering".
Swansea council said they take issues of animal welfare very seriously.
Over the last two years, more than 250 horses have been moved from Swansea to Norfolk's Hillside animal sanctuary, with about 40 in the last four months alone.
'Challenging'
In April, a council committee called for a pilot ban on horse tethering in the city.
Although the ban was blocked amid concerns about cost and workability, FOSH said "council officers are now engaging in regular advisory work."
They added: "We recognise the considerable work of council officers in tackling this challenging issue. We are pleased with progress.
"But simply picking up and moving horses on to a sanctuary which is under great pressure cannot constitute an appropriate solution."
A Swansea council spokesman said: "Tethered horses are the responsibility of the horse owners, but we take issues of animal welfare very seriously.
"We feel we are jointly making tentative progress to a goal all groups want - no tethering on public land, and horses being cared for properly by their owners."