Barry amputee loses Greece crash payout court battle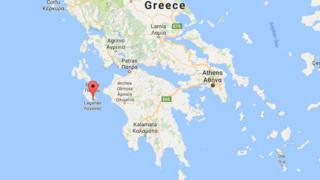 A woman who was hit by an uninsured driver while abroad will have her compensation assessed under Greek law, the Supreme Court has ruled.
Tiffany Moreno, from Barry, Vale of Glamorgan, had her right leg amputated below the knee after she was hit in Zakynthos in May 2011.
It means she can expect less money than if it was under domestic law.
Judges allowed an appeal against an April 2015 ruling which stated the laws of England and Wales should be applied.
The Motor Insurers' Bureau (MIB), which compensates victims of uninsured drivers, has admitted liability but contended damages should be calculated according to Greek law in the same way they would be if the accident was caused by an insured driver.
Five Supreme Court justices agreed and unanimously allowed an MIB appeal against a ruling by High Court judge Mr Justice Gilbart that domestic law should be applied.
The MIB is handling Ms Moreno's claim on behalf of its Greek equivalent, the Greek Guarantee Fund (GGF).
Ms Moreno was walking along the verge of a road when she was struck from behind by a car driven by Kristina Beqiri, who did not have a valid driving licence.
Beqiri has admitted responsibility for the accident.
Lord Mance said: "Sadly, Ms Moreno suffered very serious injuries, which included loss of her right leg, requiring her to use a wheelchair, continuing pain and psychological reaction, as well as loss of earnings.
"Ms Moreno's concern is that Greek law would yield a lesser measure of compensation than English law."
MIB chief executive Ashton West said: "Nothing changes the fact that Ms Moreno has been the unfortunate victim of a serious accident with an uninsured driver abroad.
"There is no doubt that she is entitled to damages for her injuries; however, the principle is about using the right law to decide how much to pay Ms Moreno.