Radyr cricket match halted as police chase car thieves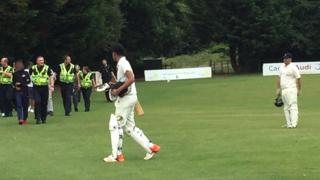 A police chase stopped play at a Cardiff cricket match as officers pursued suspected car thieves.
Radyr was playing Marylebone Cricket Club when officers ran across the pitch and into a neighbouring field, leaving players and spectators watching on.
It ended soon after when officers re-appeared with five arrested youths.
It is alleged a stolen BMW was involved in the incident and had earlier driven through nearby Hailey Park in Llandaff North.
Jo Morgan, the scorer at Radyr Cricket Club, said they had heard the helicopter for a while before they saw a police car heading towards the pitch.
"The police got out and ran across the field," she said.
"They went into the neighbouring fields and within 10 minutes they were all walking back through with five youths."
South Wales Police has been asked to comment on the incident.