Cardiff brothel madam who went on the run abroad jailed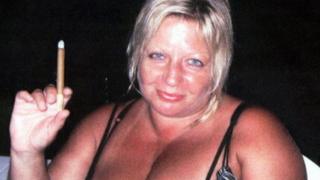 A brothel madam who went on the run abroad for seven years has been jailed.
Diana Jones from Llangain, Carmarthenshire, lived a "life of luxury" in Northern Cyprus - which has no extradition treaty with the UK - after refusing to pay back £2.6m she earned from brothels in Cardiff and Swindon.
But she was arrested in May at Stansted Airport after flying back into the UK, reportedly due to concerns about her health.
She has been jailed for four years.
Plaid Cymru assembly member Phil Williams died of a heart attack while visiting her parlour Twice As Nice in 2003.
Cardiff Crown Court was told in 2008 police were aware of what went on in her massage parlours and regularly checked no under-age girls were employed or there was any drug use.
But she was arrested after taking two eastern European women she suspected of being human trafficking victims to police.
A probe found Jones had nothing to do with trafficking but detectives found evidence of money laundering.
She was given a 12-month suspended sentence and told if she did not pay back £2.6m she would go to prison.
But she had already left the UK and she refused to come back.
Police said the interest on her debt meant the figure had risen to £3.7m.