Cardiff gull mess tackled by extra street cleaners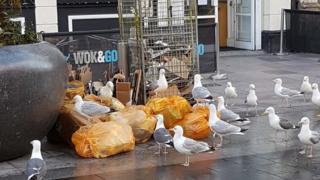 Cardiff council has put on extra street cleaners to deal with the mess made by breeding gulls.
A council spokesman said the birds are "scavenging for food in the city centre, ripping open bags and making a mess of our streets".
The extra staff will be deployed in the city centre between 17:00 and 21:00 BST.
Gulls, a protected species, become particularly aggressive during the breeding season.
The additional teams will cover the Mill Lane, Hayes and Lower St Mary Street area, while enforcement officers will step up action against those how don't bag up their waste properly.
Cllr Bob Derbyshire, cabinet member for the environment, said the Severn Estuary has one of the largest colonies of gulls in the UK, and other cities such as Bristol and Bath are experiencing the same problems.