Barry Island road to ease beach traffic jams opens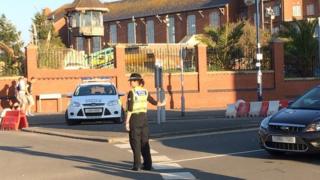 A new bypass road has opened in a seaside town which has suffered traffic problems in the summer months.
A second road to Barry Island in the Vale of Glamorgan opened on Friday.
It was not due to be finished until 2018, but was brought forward after an agreement between Vale of Glamorgan Council and the developers.
Council leader Neil Moore said: "We believe this will make a very real difference both to local residents and the fortunes of the resort."
He added: "The new road will allow entry into the Harbour Road car park from both the island causeway as well as to and from the waterfront development.
"However, the exit from the car park will be restricted to travel towards the waterfront."