Cardiff family sells George Washington fork for £20,000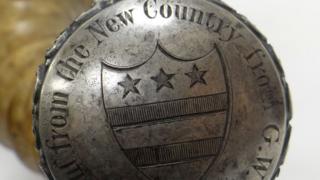 A Cardiff family is selling a fork which was a gift from America's first president George Washington.
The toasting fork has the inscription "A Present from the New Country from G.W. 1776".
It was given to Cpt Fenner Palmer, of the New York Militia which fought against the British during the American War of Independence.
His descendant Jamie Vanns is putting the 60cm (24in) fork up for auction for £20,000 next week.
Mr Palmer was captain of the fifth company of the 14th Regiment which formed part of the Continental Army, led by Commander-in-Chief General Washington.
The fork has been handed down the generations to Mr Vans, 66, from Ely, Cpt Palmer's great-grandson five times removed.
It is engraved with the year in which the Declaration of Independence was signed and has an antelope horn handle.
Mr Vans said: "I was given a whole chest of things and kept the fork, with such an elegant and fascinating inscription on the pommel, safe in a cupboard for many years.
"But now I feel it is time to pass it on to someone who will appreciate its message."
Auctioneer Ben Rogers Jones said: "I've never before handled such a historic item, one which speaks of a momentous period in American history.
"It bears an inscription from one of the Founding Fathers of the United States, the figure who went on to become the country's first president.
"It's incredible to think the fork has survived 240 years and is now being offered as a symbol of such a significant event in world history."