Caerphilly council scraps plans for 12,400 new homes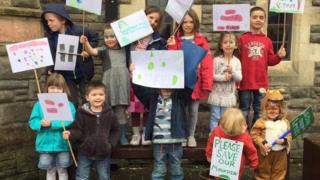 Caerphilly council has unanimously voted to withdraw controversial plans to allow 12,400 houses to be built up until 2031.
4,500 people signed petitions against the proposals, which included thousands of houses on greenfield sites.
The council said it had listened to residents' concerns.
It will instead work with neighbouring authorities Rhondda Cynon Taf and Merthyr to develop a longer term "strategic" plan.
But the authority maintained it was not challenged by the Welsh Government for the quantity of houses in the plan.
Planning inspectors said in March 2015 there was a "lack of evidence to explain the type, scale and distribution of development" in the plan, with further 'fundamental concerns' in June 2016.
The Labour-controlled council was urged by party members including Hefin David, AM for Caerphilly and Julie Morgan, AM for Cardiff North, to reject the plan.
Both called for the authority to look at planning over a larger geographical area.
Some campaigners said the county did not need as many houses as the plan stated, citing estimates suggesting as few as 5,400 might meet demand, based on 2011 projections.
However, Christina Harrhy, corporate director for communities, said there was no dispute with the Welsh Government over the figure of 12,400 homes.
She quoted a letter sent to the authority by the Welsh Government, which stated it would "not be appropriate" to reduce the level of housing provision to 2011-based projections.
The letter said it would replicate "a period of exceptionally poor economic performance".
The council was told there was now "growing momentum" towards a "strategic" development plan to consider planning and infrastructure over a wider area, including in Rhondda Cynon Taff and Merthyr Tydfil.
Several councillors also talked about the importance of the proposed 'City Deal' with Cardiff in future developments.
'Not wasted'
Campaigners had long argued that there was not enough infrastructure in place to cope with the additional houses, claiming the area was being used as an "overflow" for Cardiff.
But those representing big house building companies said a mixture of brownfield and greenfield sites were needed to make any development viable.
A full council meeting was told the cost of the local development plan was £60,000 over three years, excluding staff costs and after taking a £65,000 Welsh Government grant into consideration.
Councillor Ken James, cabinet member for regeneration and planning, said the money was "not wasted" and the information gleaned from the consultation would be used in future.
The current Local Development Plan will now remain in place, but councillors were told to expect an increase in planning appeals unless a longer term plan for housing land was established.
The council meeting was told that each planning appeal cost between £25,000 and £30,000.