Cardiff city centre plans for 20-storey office building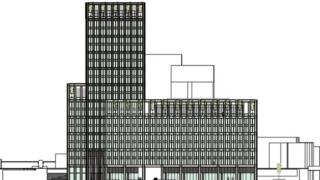 A 20-storey office block could be built in Cardiff city centre, under new plans.
Proposals have been submitted to build three towers - 20 floors, 10 and eight respectively - on John Street.
The site, located at the old home of No Fit State Circus, would also have shops and cafes on the bottom two floors.
The 433,785 sq ft (40,300 sq m) development would be large enough for 3,590 employees and include 112 parking spaces.