Roald Dahl exhibition opens at National Museum Cardiff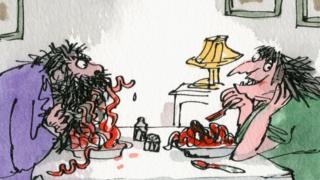 A Roald Dahl-themed art exhibition opens in Cardiff on Saturday.
Drawings from the author's novels will be on display at National Museum Cardiff until 20 November.
The exhibition features more than 120 works, brings together curator Quentin Blake's drafts and storyboards with finished art work to demonstrate how ideas evolved.
The 100th anniversary of Roald Dahl's birth will be celebrated in September.
A Roald Dahl-themed breakfast takes place at 10:00 BST, followed by drawing and a fancy dress competition.