Converted Monmouth chicken coop up for architecture prize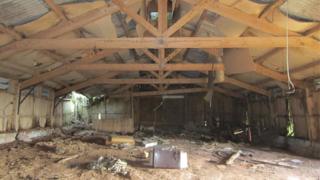 A run-down chicken coop which was transformed into a four-bedroom holiday home has been nominated for an architecture prize.
Martin Hall renovated the shed in Monmouth after seeing its potential due to the views of the Black Mountains.
The £275,000 renovation is now up for the gold medal for architecture at the National Eisteddfod.
Architects Hall and Bednarczyk said the barn was "abandoned for several decades and in a rundown state".
The gold medal recognises architectural excellence and the winner will be announced during the festival in August.