Newport Bus drivers to take industrial action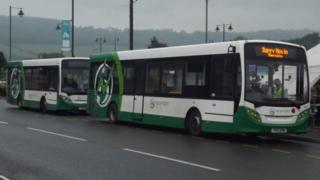 Drivers for bus company Newport Transport are set to take action in a row over pay, the firm has said.
It employs 250 staff and operates more than 40 Newport Bus services in Newport, Cardiff and Cwmbran.
The industrial action is due to take place on Tuesday, 19 July.
In a statement, the company said: "We have made a number of pay increase offers to our staff. Sadly, these offers, including our latest improved pay increase, have been rejected."
The company said it would try to operate as many services as possible if the planned action went ahead.
Meanwhile, 320 staff have lost their jobs after Wrexham-based bus company GHA Coaches announced it had gone into administration.