Cardiff student racers remember Welsh F1 driver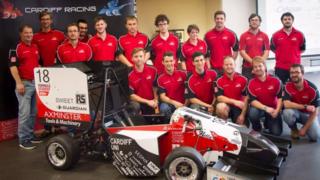 Cardiff University students have named their entry in a prestigious race car competition after the widow of Wales' only ever Formula One race winner.
The college's School of Engineering team is one of 130 taking part in the four-day Formula Student event at Silverstone in Northamptonshire.
They have named their car Nella, after the wife of Tom Pryce.
The Denbighshire driver was killed during the South African Grand Prix in 1977 - aged just 27.
Born and raised in Ruthin, he was the only Welshman to have ever won a Formula One car event, when he took the chequered flag at the Brands Hatch Race of Champions in 1975.
He was a rising star on the F1 circuit, and had been faster than world champion drivers James Hunt and Niki Lauda in practice sessions in South Africa, but crashed during the race itself.
One of the Cardiff Racing team members, student Dewi Griffiths, was a huge fan of the almost forgotten driver and it prompted their chief technician Lee Treherne to track down Pryce's widow, Fenella - known as Nella.
"After finding her on Facebook, we sent her a message and eventually got a reply," said the technician.
She was living in France, and gave the team her blessing.
In her messages to the team at their launch of the car, she said that she was privileged" to have it named after her.
"Huge congratulations to all concerned, you must be very proud. I can see my name on the side and feel very privileged and flattered indeed," she said.
The team now faces a series of engineering challenges over the next four days - not least taking 'Nella' out on the Silverstone track to put the car through its paces.
Perhaps a fitting location too, to race a car in memory of Tom Pryce.
It was here in 1970 that Pryce's career really began - winning the Crusader Championship in a Lotus 51 Formula Ford car.