Cardiff woman, 93, gets France's Legion D'Honneur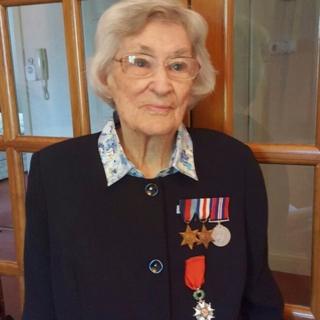 A 93-year-old war veteran from Cardiff is to receive France's highest military award for civilians in recognition of her wartime role in the D-Day landings.
Sylvia Wild was one of the first woman to have landed on the D-Day beaches while working with Field Marshall Montgomery's 21 Army Group.
She stayed with Montgomery's headquarters all the way to Germany and saw a concentration camp liberated.
She will receive the Legion D'Honneur from the French consul.
Ms Wild initially joined the Auxillary Territorial Service, the women's army branch, before volunteering for overseas service and was one of few women to join 21 Army Group, which oversaw the UK and US forces involved in the Operation Overlord invasion.
She landed in Normandy shortly after D-Day and provided administrative services to the team in charge of rebuilding the road and rail network.
She was billeted with French resistance fighters in Rouen while there were still German snipers on the the rooftops and moved on to Brussels and into Germany.
'Rather funny'
She told BBC Wales: "For one year I worked for Montgomery's officers who were planning the D-Day landings. When it was obvious that day was nearing, we were asked [to go].
"Montgomery didn't want to take women abroad and in the end he had to take his clerical staff, which were those of us who had been with them for some time.
"He interviewed us in a small office near Hammersmith. He was rather funny; we all had heavy colds and he greeted us with, 'one more cough, one more sneeze and I will leave'.
"To be honest, when we arrived out there, we were a day and a night later than they thought and once we got there we just wanted to get our heads down."
Ms Wild said once in France she was told they needed the services of a shorthand typist to help with the rebuilding of the transport network and was sent forward with the troops.
The medal will be presented by the French consul, Marie Brousseau-Navarro, at Llanishen Golf Club.