Majorca balcony fall coma man back recovering in Newport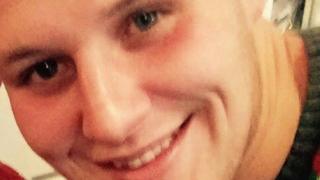 A holidaymaker who fell from a hotel balcony in Majorca is out of a coma and back home in Newport.
Andrew Phillips, 25, sustained serious head injuries on the first day of the holiday in the resort of Magaluf.
His mother said the bricklayer was "doing really well" at his Brynglas home - but it could be years before he fully recovers.
Joanne Phillips said her son had no memory of the incident and the circumstances remain "a mystery".
"We think he slipped off the balcony but don't really know - the boys were all having a laugh," she said.
"We're relieved that he's home and he is as good as he can be."
Facial surgery
Her son spent two weeks in hospital on the Spanish island before being flown home.
He had surgery in Majorca for fractures to his eye socket, jaw, nose and cheek bone.
"The doctors have said it just takes time and can be six months to 10 years to fully recover. Every patient is different," his mother added.
"But he's doing marvellous. We are all so pleased he's doing really well."