Celtic Manor golf lake death buggy driven by man's father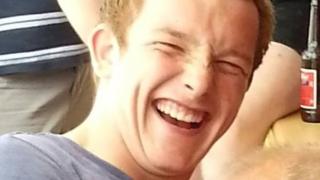 A man died after he got trapped underneath a weed spraying buggy which overturned into a lake at a Newport golf resort, an inquest has heard.
Oliver Floyd, 20, got stuck after the vehicle, driven by his father Nicholas Rawlings, lost traction on Celtic Manor Resort's Twenty Ten course last March.
It had been raining and Mr Rawlings was "worried" about continuing to spray the course because of the conditions.
Celtic Manor Resort told the Newport hearing risk assessments were in place.
The inquest jury has retired to consider its verdict.
It was told Mr Rawlings was driving the vehicle when it began to slide into the lake and told his son to "climb out behind me".
But Mr Floyd became trapped and, despite his father managing to get his head level with the water and other workers helping him to breathe through a hose, they were unable to free him.
The inquest at Gwent Coroner's Court heard the father and son worked together regularly and had been due to spray the resort's Roman Road course that day, but were moved to the Twenty Ten course over concerns the buggy would leave tyre tracks.
The pair, who worked for Complete Weed Control South and Central Wales Ltd, had received health and safety training on the vehicle.
The jury also heard evidence from Jim McKenzie, director of golf courses at Celtic Manor Resort, who questioned why Mr Rawlings drove the vehicle along the particular slope he took, as he said it was not part of the area they were spraying.
Summarising, Wendy James, the assistant coroner for Gwent, said the embankment was at an angle of 17.5 degrees, but that the vehicle should not have been driven on a slope of more than 14 degrees.
Mrs James said there were no signs in the cab explaining the "slope tolerance".
She directed the jury to consider two possible conclusions, accidental death or misadventure.