Cardiff crash: 'Speeding driver killed father and baby son'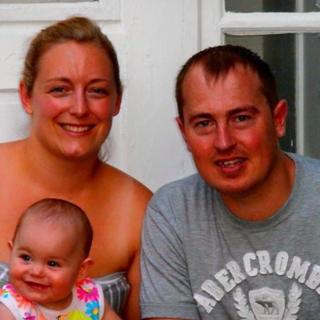 A father and his baby son were killed in a head-on crash by a driver "doing motorway speeds" on a 40mph limit road, a court has heard.
Simon Lewis, 33, died when Kyle Kennedy, 29, of Cardiff, smashed into him in the city on New Year's Eve.
His son - who was born three days after the crash - later died.
Mr Kennedy denies two counts of causing death by dangerous driving at Cardiff Crown Court. He admits causing death by careless driving.
The court heard Mr Lewis was driving with his heavily pregnant wife and young daughter in his car when Mr Kennedy smashed straight into the vehicle.
The defendant was driving at up to 70mph (112 km/h) in the 40mph (64km/h) limit along Lamby Way in Tremorfa when he tried to overtake a van, the jury heard.
Mr Kennedy allegedly clipped it and then hit Mr Lewis's car.
The force of the impact dislodged the engines of both cars and sent them across the road, with witnesses describing seeing a "cloud of smoke".
Prosecutor Matthew Cobbe said Mr Lewis's wife Amanda was in the passenger seat at the time of the crash and the couple's daughter was "strapped safely in the back".
"Amanda Lewis was heavily pregnant at that time and suffered injuries," he said.
"Three days later she underwent an emergency Caesarean section and the baby died."
He said the baby - Simon Lewis Junior "died as a result of having been born early".
Mr Cobbe added: "This was absolutely dangerous driving, his excessive speed and the dangerous overtaking manoeuvre that he performed by pulling out without any view gave Simon Lewis no chance of taking any avoiding action."
Jessica Brown, who was driving along Lamby Way at the time, estimated Mr Kennedy was travelling at "motorway speed" and he was going about 70mph
Mr Kennedy told investigators he could not remember the crash.
The trial continues.