Cardiff archdiocese celebrates 100th anniversary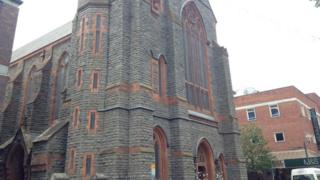 Centenary celebrations are being held at Cardiff's Catholic Archdiocese, marking 100 years since it was founded.
The Catholic hierarchy in Wales was suppressed during the Reformation in the 16th Century.
But it was re-established in Wales with the founding of the Roman Catholic Archdiocese of Cardiff in 1916.
Archbishop George Stack said 2016 was a celebration of the past, present and future.
"The diocese of Cardiff has made an extraordinary contribution to the life and the culture of both the city and the counties," he said.
"We have about 50 churches and 50 schools spread all over this area so there is a tremendous feeling of solidarity between them and the diocese."
Rev Canon Peter Collins said it was an opportunity "to reflect on our history".
As part of the celebration, a Festival of Flowers is being held at St David's Metropolitan Cathedral, Cardiff.
More than 100 volunteers have helped to create 47 floral arrangements, which are on display until Monday.