Finley Thomas murder trial: Sean Buckley 'not abusive'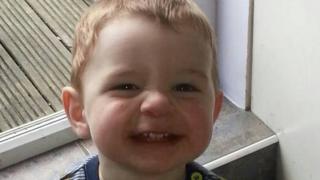 The mother of a toddler allegedly beaten to death told a murder trial her son had a "brilliant" relationship with her partner accused of killing him.
Chloe Thomas, 25, denied Sean Buckley, 28, from Tonypandy, Rhondda Cynon Taff, had ever been abusive - and said he considered her 17-month-old boy "his own."
Thomas denies allowing Mr Buckley to abuse toddler Finley Thomas.
Mr Buckley denies murder and both deny cruelty to a young person.
Ms Thomas told Cardiff Crown Court: "My relationship with Sean was brilliant. We'd been together for around seven months before Finley died but I'd known him for about 10 years through friends.
"We never had domestics, just silly little arguments. He never put his hands on me and never put his hands on Finley.
"He had a brilliant relationship with Finley. He treated him like his own son. Finley started calling him 'Daddy'.
"It was a normal happy relationship. Not at all abusive."
Ms Thomas said on the day Finley died she had left him alone with Mr Buckley but received a call asking her to "come back quick" and she found Finley "all floppy" at the bottom of the stairs.
"Sean then moved him off the settee onto the wooden floor and I rang 999.
"Sean was panicking and upset. He freaked out. He was asking 'what are we meant to do?'"
The court heard text messages were sent from Ms Thomas' phone to Mr Buckley after Finley died in hospital, going over what happened with her son as well as referring to explanations about older bruising doctors found on his forehead and on his ear.
Ms Thomas told police: "I was being asked lots of questions about my son that day and I was doing my best to make sure I was giving the correct information."
The court also heard Ms Thomas denied giving controlled drugs to Finley, after cocaine, cannabis and diazepam was found in his body.
The trial continues.