Complaint as Lakeside primary parent 'threatens' staff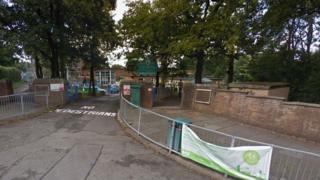 A complaint has been made to police after a parent at a Cardiff primary school allegedly threatened a member of staff in a row over parking.
A letter has also been sent to parents at Lakeside primary warning about "violent and aggressive behaviour".
It tells parents they must be "polite and respectful" and not use "unacceptable language" or police would be informed.
South Wales Police has been asked to comment.
'Set an example'
The letter said: "As a school we endeavour to teach all children to abide by the school rules and always show each other respect.
"As parents and guardians, the school and the governing body expect you to also abide by the school rules and always be respectful to other people in and around the school premises.
"Your children are learning acceptable social behaviours and they look to you to set an example.
"Violent and aggressive behaviour towards any staff at Lakeside primary will not be tolerated."