Nadia Jones killing: Couple jailed for robbery death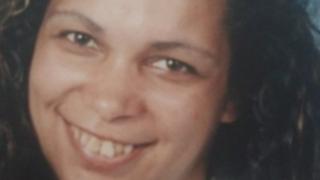 A couple who killed a Cardiff woman in a bungled drugs robbery have been jailed at Cardiff Crown Court.
Nadia Jones, 38, was beaten and strangled by Kial Ahmed and Roxanne Deacon at her home in the Tremorfa area of the city in September.
Ahmed, 34, of Trowbridge, pleaded guilty to murder and robbery and was given a life sentence on Wednesday.
Deacon, 26, pleaded guilty to manslaughter and robbery and was sentenced to 13-and-a-half years.
The judge told Ahmed that he must serve at least 19 years.
The court heard that the pair also "desecrated" the body of their victim, as they recovered drugs and cash that had been hidden on her person.
In an impact statement to the court, Ms Jones's mother Diane Catty said the death of her daughter was "extremely unfair".
"Nobody should have taken Nadia away from us," she said.
"Nadia didn't deserve to die like this. There will never be closure because it will have an effect on us for the rest of our lives."
Prosecutor Michael Mather-Lees said: "Nadia Jones was killed in her own home at night.
"It was a pre-conceived plan to go and rob Ms Jones."
A court heard Deacon and Ahmed arrived at their victim's home just before midnight.
She was "set upon" by Deacon, beaten around her body and face with 17 different injuries.
Judge Neil Bidder said: "This was a homicide killing which was committed in the course of a robbery.
"It was committed in order to steal drugs and cash from her."
Speaking after the sentencing, Ms Jones's daughter Leah Driscoll said: "No sentence is long enough as when they are released they will be back out.
"Ours is a life sentence as Nadia will never be back with us; we will always have our memories to treasure but there were so many more that we should had made."
Det Insp Mark O'Shea added: "We hope today's sentencing helps Nadia's family to somehow move forward and to remember her as a young woman who was happy, bubbly and fun to be around."