Euro 2016 fanzone for Cardiff in Cooper's Field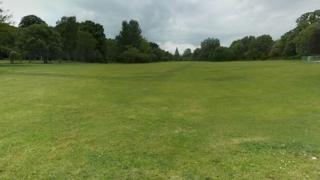 A Cardiff fanzone with a giant screen for supporters to watch Wales compete in the Euro 2016 finals in France will be set up in the city's Bute Park.
Cardiff council said the venue at Cooper's Field would hold 6,000 fans, have free entry and be family-friendly.
Local bands will provide entertainment and food and drink will also be available at the site.
Council leader Phil Bale said it was "only fitting" to mark the Welsh team's achievement with a public event.
The zone is being run by a partnership involving the council, Sayer Amusements, BBC Wales, the Football Association of Wales and Sport Cardiff.
It will screen Wales' games against Slovakia on Saturday, England on Thursday, 16 June and Russia on Monday, 20 June.
It comes after student Mark Jones, 24, started a petition calling for officials to set up a designated zone.
"I'm absolutely chuffed," said Mr Jones from Blackwood.
Mr Bale said: "It's a great opportunity for people from the city and indeed across the region to come down.
"[It has a] 6,000 capacity, a range of entertainment we will be having here over the next few days and weeks, and obviously one of the biggest screens anywhere in the country in terms of being able to watch the action.
"We're really excited and we wish Wales all the very best in the games coming up."
Opening times
Wales v Slovakia, Saturday, 11 June - 15:00 BST to 22:00 BST (Kick-off: 17:00 BST)
Wales v England, Thursday, 16 June - 12:00 BST to 20:00 BST (Kick-off: 14:00 BST)
Wales v Russia, Monday, 20 June - 16:00 BST to 22:00 BST (Kick-off: 20:00 BST)
Swansea council announced last week fans would be able to watch matches on the big screen in Castle Square.
However plans for a fanzone in Newport's Friar's Walk shopping centre were rejected after Gwent Police declined to support the idea.
The force said the proposal for a screen in John Frost Square were too risky.
Insp Kevin Warren said: "The rationale for this includes the risk of added crime such as anti-social behaviour and disorder, along with the control of alcohol consumption and the demand it would have on local policing.
"The event organisers have been unable to offer any significant contingencies for these areas which would be a safety risk to the public and a reputational risk to the force."
A spokesman for Friar's Walk said: "The enjoyment and wellbeing of our visitors, customers and general public is of paramount importance to us and following consultation with Gwent Police, there are too many unknowns for this to take place at our venue."