Cardiff record-breaking runner Rory Coleman struck by rare virus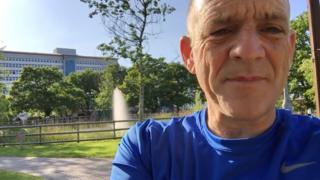 A world record-breaking runner and celebrity performance coach from Cardiff has said he is "lucky to be alive" after being struck down by a rare virus.
Rory Coleman, 54, from Canton, has been diagnosed with Guillain-Barré Syndrome.
The condition, which attacks the nervous system, has left the ultra-marathon runner in a wheelchair.
"I've had some really dark days. It gives you a new perspective on life," he said.
The father-of-five has completed 976 marathons, 241 ultra-marathons and 13 Marathon des Sables since 1994 and holds nine Guinness World Records for running.
His celebrity clients include adventurer Sir Ranulph Fiennes, television presenter Helen Skelton and actor Richard Harrington.
He was diagnosed with Guillain-Barré on 7 May following a stomach bug and was admitted to Cardiff's University Hospital of Wales. It came just four weeks after he ran 156 miles (250km) across the Sahara Desert in the Marathon des Sables race in Morocco.
Mr Coleman, who has been blogging about his illness, told BBC Wales he lost his ability to walk properly and his left side dropped "as if I'd had a stroke".
"I was in agonising pain. It's something that hardly anybody has heard about; it's a completely new thing," he explained.
"When they told me that's what they thought I had, I went a dramatic shade of grey.
"To somebody like me it's like kryptonite."
Guillain-Barré Syndrome
Occurs when the body's immune system attacks part of the nervous system
Symptoms include numbness, muscle weakness and co-ordination problems
Often starts in your feet and hands before spreading to your arms and legs
Some people will not recover completely and up to 20% of people still experience some muscle weakness after three years
In rare cases, complications can be life-threatening
Source: NHS
Having spent three weeks in hospital, he can now walk 10 steps unaided and hopes to be discharged on Tuesday.
Yet Mr Coleman, whose wife is nearly eight months pregnant, is unsure whether he will make a full recovery or be able to run again.
"Most people can take up to a year to recover but I'm going to have been in hospital for just 25 days. I believe it comes down to my fitness and my mentality," he said.
"I'm just trying to work as hard as I can at getting better, to make today better than the day before. I want to get back to being me.
"Hopefully I can show others you can overcome anything if you put your mind to it."