Tranquilliser drugs stolen from Blaenau Gwent vets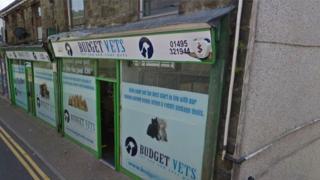 Staff at a vets practice in Blaenau Gwent have said they are concerned someone could die after £10,000 of controlled substances were stolen.
The tranquilliser ketamine, euthanasia drug dolethal and vaccines were taken from Budget Vets in Abertillery.
Practice manager Josie McGarry said some of the ketamine was due to be disposed because it was no longer suitable for use.
The practice shut on Thursday but hopes to reopen on Friday.