Paolo Nutini Newport gig for boy, 13, whose mother died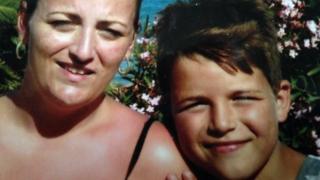 Paolo Nutini will perform in Newport to raise money for a 13-year-old boy whose mother's died
Bevlee Jones, from Newport, who was a huge fan of the Paisley-born singer, died suddenly in March, aged 34.
Her son Ieuan made a plea for Nutini to perform at her funeral through Facebook, but he was touring in Europe.
Nutini has announced he will play his only UK show of 2016 at Newport Centre on 20 July with profits going to Ieuan.
"When I heard of Ieuan's plea, it was with regret that I couldn't attend his mother's funeral and do what he asked of me," said Nutini, 29.
"I wanted to help him in any way that I could and I feel like a concert in aid of Ieuan himself and in memory of his dear mother was the right way to do so."