Welsh secondary school worry as English-medium pupils apply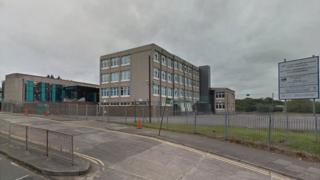 A Welsh education campaign group is concerned English-medium pupils transferring to a Welsh secondary could cause problems for a Cardiff school.
Twelve families whose children failed to gain places at Cardiff High School contacted Ysgol Gyfun Bro Edern and five have applied for places.
Parents for Welsh Education said Bro Edern did not have the expertise to accommodate non Welsh-speaking pupils.
Cardiff council said it was "exploring ways" to support the pupils.
The parents have indicated they would prefer their children to transfer to Welsh-medium education rather than choose schools such as Cathays High School or Willows High School in Tremorfa.
Catchment area
Most of the children affected attend Marlborough Primary School in Roath, where 24 pupils were refused a place in Cardiff High despite living in the catchment area.
A Cardiff council spokesman said: "Marlborough Primary is within the Cardiff High catchment area and 24 of its pupils are currently without a place there.
"At the moment there are places available in five English-medium secondary schools across the city, including Cathays and Willows.
"The council's admissions policy allows parents to apply for up to three community schools in Cardiff, with both English-medium and Welsh-medium education on offer.
"The local authority's Welsh Immersion Unit currently helps children during the transition from English-medium to Welsh-medium primary education.
"We are exploring ways to support the five children from Marlborough Primary School who have applied to Ysgol Gyfun Bro Edern and to provide the parents with all the information they will need before making their final decision."