Ryan Morse manslaughter trial: Boy was 'grey and gaunt'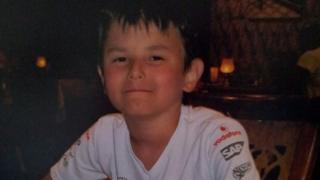 A 12-year-old boy at the centre of a manslaughter trial involving two GPs looked "grey and gaunt" in the weeks before his death, a court has heard.
Ryan Morse, of Brynithel, Blaenau Gwent, died in 2012 from Addison's disease, a rare disorder affecting the adrenal glands.
Dr Joanne Rudling, 46, of Cardiff, and Dr Lindsey Thomas, 42, of Tredegar, deny manslaughter.
Cardiff Crown Court heard he looked "jaundiced" in the run up to his death.
On Monday, the court heard statements from staff members at Abertillery Comprehensive School, who had noticed he was looking unwell in the weeks preceding his death on 8 December, 2012.
His form tutor Teresa Martin said: "Over the weeks, he had deteriorated. He had lost weight and looked drained, but I'm unable to give exact timings of when I noticed this.
"I remember seeing Ryan in the queue to assembly and he had dark skin and looked jaundiced."
A statement from another teacher at the school, Christopher Brown, was read to the court.
Mr Brown, who saw Ryan weekly for design and technology lessons, said: "Two weeks before he died I attended a meeting with Ryan's mother and Keith Moore, the education welfare officer, about his return to school after illness.
"Ryan seemed thin, grey and gaunt.
"He had lost all the colour and pinkness in his skin. When I saw his picture on the front of the order of service for his funeral, it wasn't the same boy."
Ryan first fell ill in July of that year and weighed just 4st 11lb (30kg) at the time of his death.
The prosecution has previously told the court that, after Ryan's mother, Carol, made several appointments at Abernant Surgery in Abertillery, the accused doctors failed to properly diagnose his condition.
Both doctors deny manslaughter through gross negligence.
Dr Rudling also denies attempting to pervert the course of justice with an entry made in Ryan's medical notes two days after he died.
The trial continues.
Addison's disease
Adrenal gland is damaged and not enough cortisol and aldosterone are produced
About 8,400 people in the UK have it
Symptoms include fatigue, muscle weakness, loss of appetite and unintentional weight loss
People can also develop small areas of darkened skin or darkened lips or gums