Ryan Morse death: Mother's concerns 'not taken seriously'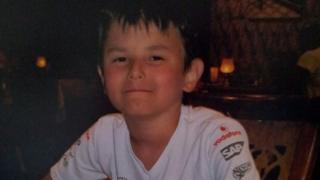 The mother of a 12-year-old boy who had Addison's disease said concerns she raised before he died were not taken seriously by doctors.
Ryan Morse, 12, from Brynithel, Blaenau Gwent, died from the condition on 8 December 2012.
Dr Lindsey Thomas, 42, of Tredegar and Dr Joanne Rudling, 46, of Cardiff, deny manslaughter at Cardiff Crown Court.
Addison's disease is a rare disorder of the adrenal glands, with early symptoms often similar to flu or depression.
The court heard how Ryan's mother Carol took him to see numerous doctors, who each failed to act on her concerns.
The jury was shown a police interview where Mrs Morse described her visit to Abernant Surgery, Abertillery, five months before he died.
In the interview, she said Ryan displayed symptoms that included discolouration of large areas of his skin, aching legs, a sore throat and a headache, yet a doctor told her that he was suffering from a virus.
'I'm the doctor'
Mrs Morse said she was shocked to see how dark the skin on her son's stomach was when the doctor lifted up his top.
"I pointed out the dark area round his mouth and hands and joints and mentioned glandular fever," she said in the interview.
She said the doctor replied: "'I'm the doctor'", adding "he was very direct. I think I upset him".
For the rest of the summer she said he "wasn't himself", did not go out with his friends to play and lost his appetite.
The court heard she returned to the surgery in September 2012 after Ryan developed bumps under his skin, but another doctor dismissed it as a rash.
'Continue for months'
In November 2012, Mrs Morse said she booked another appointment at the surgery, determined to get answers.
They saw Dr Rudling who listened before ordering blood tests, but at a repeat appointment two weeks later also diagnosed it as a virus which would "continue on for a few months".
"I was gutted. I didn't say anything to Ryan because I thought I might cry but I could see the disappointment on his face," Mrs Morse said.
"There was no suggestion of anything I could do for him - no supplements or even a tonic."
On Tuesday, the trial heard Ryan weighed just 4st 11lb at the time of his death.
Addison's disease
Adrenal gland is damaged and not enough cortisol and aldosterone are produced
About 8,400 people in the UK have it
Symptoms include fatigue, muscle weakness, loss of appetite and unintentional weight loss
People can also develop small areas of darkened skin or darkened lips or gums