Rosemary and Lewis Owen recount Thai attack for court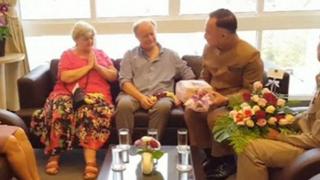 A south Wales couple who needed hospital treatment after being attacked in Thailand during a family holiday have recounted the assault in court.
Rosemary and Lewis Owen, from Wenvoe, Vale of Glamorgan, were on holiday with their son, John, in Hua Hin last month when the attack happened.
Mrs Owen, 65, needed surgery to remove fluid from the brain.
Thai officials brought the couple gifts in hospital and apologised on the government's behalf.
Six men have been charged with grievous assault, according to the Tourism Authority of Thailand.
The couple were taken to the Hua Hin court to have their testimonies recorded ahead of a scheduled flight home on Tuesday.
Police supt col Chaiyakorn Sriladecho said: "Their testimonies today will be used for the trial later. We asked them to do this so they won't have to travel back to Thailand once the trial begins.
"The couple looked better. I saw them smiling and relaxed, which was not the case last week when they were frightened, upset and angry, understandably.
"The doctor said this morning [Monday] that their wounds are healing fine and that there shouldn't be any more complications."
On Monday, Panadda Diskul, a minister in the Thai prime minister's office, visited Mr and Mrs Owen in hospital where he was reported to have apologised on behalf of the Thai government and promised the suspects would face trial.
Thai media reported he was accompanied by Hua Hin officials, who presented the couple with fruit baskets, flowers and other gifts.
Mr Owen, 68, a director at Glamorgan Electrical Repairs in Cardiff, and John Owen, 43, a graphic designer who lives in Singapore, both needed stitches for head injuries following the assault on 13 April.
Footage of the assault captured on CCTV was widely shared online in Thailand and drew international attention to the attack.
Thai police said the attack started after John Owen accidentally bumped into a Thai man in the street during celebrations for the Thai New Year.
Footage showed a brief argument taking place before attackers punched and kicked the Owens.
Mrs Owen, a retired hairdresser, was knocked to the ground by a punch and then kicked in the head when she sat up.
Both men were hit in the face and body and all three were left unconscious.
John Owen returned to Singapore last week.