Newport protected by new order on begging and alcohol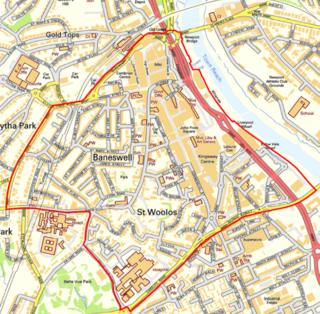 People begging and drinking alcohol in the street are among those being targeted in a police crackdown in Newport.
Street-based charity fundraisers will also be targeted from Sunday.
Anyone found breaching the conditions of the Public Spaces Protection Order could get a £100 fixed penalty.
Insp Kevin Warren said the aim was to "enhance" visitors' experience in the city centre and improve the "feeling of safety" within the Stow Hill ward.
Gwent Police and Newport City Council are working together on the initiative.
The conditions of the order for the restricted area are:
Anyone found drinking alcohol must hand over any containers when asked by an officer
No approaching the public in a "persistent manner with a view to persuading them to: subscribe to a service; or make charitable donations by direct debit, standing order or similar means"
No begging in an aggressive or intimidating manner
No fly-posting without the landowner's permission
Anyone in charge of a dog must keep it on a lead no longer than 1.5m (4ft)